Rebecca Grotts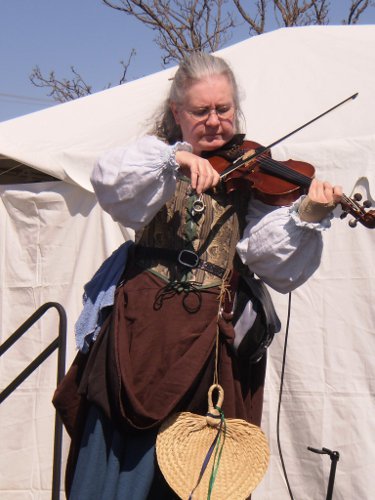 Rebecca is a teacher of music (and occasionally other subjects). She grew up in a family of musicians and music lovers; her mother has been a church organist and piano teacher, and many of her siblings and cousins play instruments and sing. Most of Rebecca's early performance work was in church settings and in the classical concert hall, as a violist and later, conductor of school orchestras, but she discovered a liking for Medieval and Renaissance tunes and songs during her college days which led to involvement in Renaissance Faires around the country, first as a patron/playtron, then as a vendor and booth worker, and finally on stage as a member of the former Celtic band, Queen's Gambit.
Rebecca's love of Celtic music started before she knew what Celtic music was - her father was very fond of folk and traditional music and introduced her to artists such as Burl Ives and The New Christy Minstrels, as well as popular performers like Peter, Paul and Mary. It wasn't until much later that Rebecca realized that her dad's 'folk music' was the Irish and Scottish tunes and songs of his own heritage; today, as she performs many of the same melodies she heard as a young girl, she often remembers with fondness listening to those old recordings with her father.
These days, Rebecca can be found at faires and festivals as well as Irish pubs, performing with her bands, Black Oak Shillelagh and On The Doss. Fiddle is Rebecca's specialty - she is known professionally as Rebecca The Fiddler - and she occasionally adds vocals to some of the music of Black Oak Shillelagh. She is also an unabashed computer geek and gamer; one of her favorite activities is to find the music in video and computer games (and certain Sci-Fi TV shows!) and learn to play it on fiddle or keyboard.